Time to vote for your favorite Phone Flings Girl! One of them will be added to your fully Date-able Girls (joining Pamu and other Girls).
Event DetailsEdit
To vote, go to the end of a completed conversation and hit the Vote button. You can also view the current results before voting by hitting the Results button.
Only the Phone Fling Girl with most votes wins, and you have only 5 votes to cast (1st vote is free, but others will cost you 5 Diamonds for each vote). While you can vote for five different girls, you can also vote for the same girl five times.
The voting option only appears at the end of completed conversations, so you cannot vote for a girl that you are still chatting with.
During this event, other incoming Phone Fling Girls will not enter the game. A new Phone Fling Girl will only be added after Vote-a-Fling Event ends.
Vote-a-Fling Event period varies depends on the Sad Panda Studios' decision (which means you have plenty of time to catch up and finish all of the conversation with your favorite Phone Fling Girl).
Hard resetting the game restarts your Phone Fling conversations, but it does not affect the number of votes you have cast or how many votes you have remaining.
[Season 2 Changes] Voting Scores are hidden until the end of event. Event period shorten up to 2 weeks.
For season 2, three girls were chosen as winners instead of one. As noted by Sad Panda Studios, this is a one-time ocurrence.
Event Date
Edit
Season 1: 1st September 2019 - 30th September 2019
Season 2: 6th January 2020 - 19th January 2020
Season 3: ??? - ???
Winners (Chosen as Date-able Girls)
Edit
Season 1: Peanut (Final Result: 35976 Votes)  - Shown up as Date-able Girl on 30th October 2019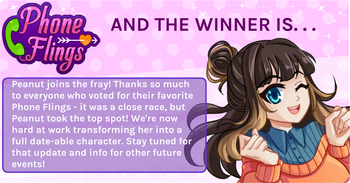 Season 2: Wendy, Ruri and Generica (Final Result: 26404, 24763 and 19499 Votes Respectively)
Ruri: Shown up as Date-able Girl on 10th June 2020 via LTE
Wendy: Shown up as Date-able Girl on 6th May 2020 via LTE
Generica: Shown up as Date-able Girl on 15th July 2020 via LTE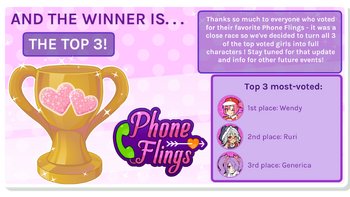 LeaderboardEdit
Note: The Leaderboard scores are hidden until the end of the Vote-a-Fling Event.
Community content is available under
CC-BY-SA
unless otherwise noted.