It's you! The protagonist of this game.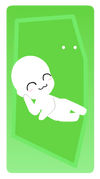 Appearance
[
]
You are a... white, blobbish... marshmallow man... woman... thing. You can freely change your hairstyle, change accessories and even your gender from the Stats tab instantly.
When you start the game/prestige reset, you look like a hobo in the park with facial hair and everything. Building up money, Hobby levels, and Relationships will make your face look more anime-like.
According to Ayano, you're 103 lbs, 4 ft 2 inches, and have a birthmark on your right heel.
You also have a really nice butt, according to the other girls. To date:
Your marshmallow appearance may also help endear you to the girls:
Personality
[
]
Literally none, outside of a few moments here and there. You take a casual attitude to things, considering how you can protest while performing vigilantism and surfing at the same time, while taking the time to slay demons and date a bear. You also seem to be pretty carefree, almost to the point of ignorance, such as protesting the oxford comma. You are generally pretty nice to people though, only hurting them on accident (although often). When Jelle isn't busy absorbing it, you also take care of a garden.
Abilities
[
]
You somehow have the ability to splice extra hours into your day. As long as you have the required "time blocks", you are capable of performing as many Jobs, Hobbies, and Dates as you wish. Now you can become a demon slayer who surfs in space while flipping burgers and taking your not-Vocaloid girlfriend to the movies.
You may also have extreme material wealth, allowing you to pay for almost anything using only 1 Diamond, becoming the primary driving force of the economy by the time Q-Piddy falls in love with you.
In spite of your absurd capabilities, it is surprisingly difficult for you to make a good first impression on a girl. To date, you have:
In fact, the only characters who DON'T have a terrible first meeting with you are:
Trivia
[
]